Printers in Citrix
---
By default client drives, usb drives, com ports, printers etc redirection from user's devices to citrix applications is allowed. On Windows machines, printer redirection works. They can see their local printers in citrix application sessions. But in macbook it doesnt work by default. Follow below process to make it work in macbook.
Solution:
Create a new Citrix policy with the below settings.

Next login to the VDA server and follow the article: https://support.citrix.com/article/CTX140208.
Same solution is given here: https://www.carlstalhood.com/virtual-delivery-agent-vda-7-15-ltsr/#printdriver
On the VDA goto control panel, and search for devices and printers. In the Printers section, highlight a local printer (e.g. Microsoft XPS Document Writer). Then in the toolbar, click Print server properties.
If you are on server 2016 or 2019, go to  Microsoft update catalogue site and search for c29cfdf0-cb25-4251-a170-9b244a27d563 or download that same file HERE. Download and install the driver on the VDA.
If you are on 2012 or below versions, use the below process and download the driver cab file. When you go to the Microsoft update catalogue site, look for the driver file as per your OS type. Continue the steps.
Note: If the driver is not listed click Windows Update. If you don't see it after Windows Update is clicked, go to Microsoft update catalogue and search for HP LaserJet 2800. Pick the 6.1.7600.16385 driver version. Extract the driver, goto control panel/devices and printers/add printer and follow the steps. When you see Have disk option, point to the drivers extracted location.
Important Note: If you extract the contents of the driver cab file using Windows Explorer the folder structure may not be retained and the driver installation may encounter an error.  To avoid this use a more robust extraction tool such as WinRar or 7zip.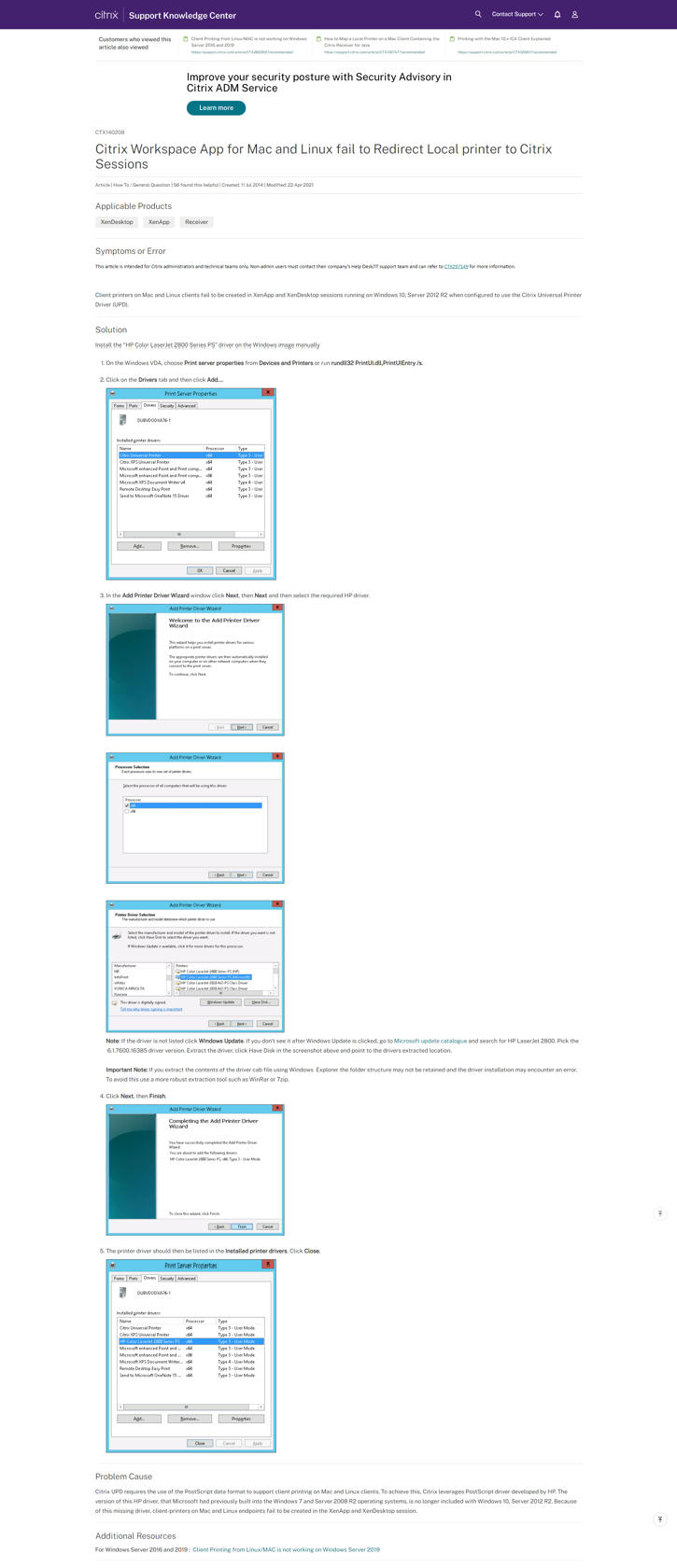 Want to learn more on Citrix Automations and solutions???
Subscribe to get our latest content by email.
If you like our content, please support us by sponsoring on GitHub below: